Seal Net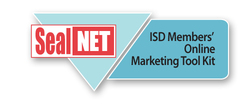 As a fluid sealing professional, you know your value in the marketplace - but do your customers?
While there are strong arguments in favor of the distributor who is a fluid sealing specialist, most ISD members simply can't afford the expense of developing the necessary marketing programs and tools necessary to communicate their value to current and potential customers. That's where SealNet comes to your rescue!
Seal Net provides the tools, information, and knowledge necessary to properly communicate your company's value and will help achieve critical recognition of fluid sealing devices as essential, specified components of limited supply arrangements.
The SealNet campaign theme, "Your fluid sealing partnership for safety and success" will help to strengthen your company's value in the minds of your customers, ensuring your continued success in the marketplace.
For each of the SealNet marketing tools, you'll note that each page has both a "VIEW" and a "DOWNLOAD" button. Click VIEW for a quick preview of the program's content, look, and feel. We've added generic logos and addresses to show you where your own logo and address should be placed. All VIEW documents are in pdf format and can be viewed and printed using Acrobat Reader.
Click DOWNLOAD for a working copy you can customize yourself or send to a printshop for production. There will be no logos or addresses on these documents. To customize the Presentation, you will need Microsoft PowerPoint. To customize the letters and case studies, you will need Microsoft Word.
You'll need the following applications to use various program components:
Microsoft PowerPoint, '97 or newer.
Microsoft Word.